How Spinner II Centrifuges Operate
Spinner II centrifuges are typically self-powered (pump-assisted units are also available). They spin at 4000 to 10000 rpm creating fluid pressure sufficient to generate centrifugal force 2000 to 3000 times greater than gravity. This force extracts solid contaminants from the fluid stream and deposits them in the cleanable rotor as a dense, solid cake.
Spinner II centrifuges are highly efficient, self-contained, fluid cleaning units for bypass and off-line filtration of engine lubricants, gear oils, machining fluids, hydraulic oils, quench oils and other industrial fluids. Using the power of centrifugal force, they remove both large contaminants and ultra-fine particles as small as one-tenth of a micron. In a broad range of applications, Spinner II centrifuges are proven to reduce critical component wear up to 50%*. They also meet the challenge of new, low-emissions engines by providing the efficiency to control increased soot loads.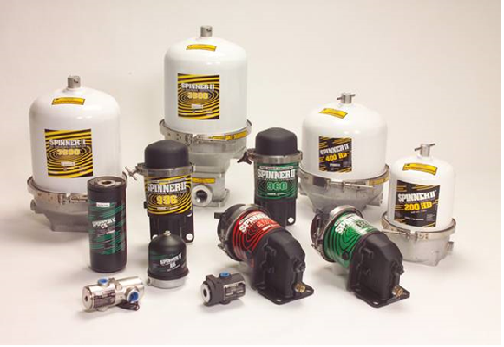 Benefits For You –
REDUCES COSTS
Extends oil life
Lengthens service intervals
Preserves additive potency
Prolongs full-flow filter life
Reduces maintenance costs
Cuts waste disposal costs
Maximizes in-service time for trucks
Helps ensure clean combustion and fuel efficiency
Long-term preventive maintenance
PROTECTS YOUR ENGINES
Maintains cleaner oil
Reduces engine wear up to 50%
Increases engine life
EASY TO MAINTAIN
Simple, convenient installation
Fast and easy to service
No replacement elements
Contaminant access for engine troubleshooting
BETTER FOR THE ENVIRONMENT
Reduces oil and filter waste
Promotes clean combustion and lower emissions
FIELD-PROVEN
More than a million units in operation in fleets of all sizes
Standard equipment for more than 40 engine    manufacturers worldwide